Resistance Welding Machines and welding robots made for Europe and the World
From versatile spot welders to fibre laser robot welding cells, PROFISPOT® welding equipment and PROFIBOT® welding Robots can take your assembly and fabrication to a higher level of precision and productivity at an affordable cost.
For specific applications, PROFISPOT® uses its knowledge acquired over the last 30 years to construct machines that are reliable and functional.
PROFISPOT® : CUSTOM MADE SPOT-WELDING MACHINES FOR THE PRICE OF STANDARD MADE!
Why search further?
You'll find your next welder here on our website!
Resistance/Spot/Pressure Welding Machines made for Europe and the World
Spot welding machine for welding sinks-basins into countertops and worktops
Welding stainless steel sinks, bowls, fryers, basins of all shapes and sizes into kitchen countertops, worktops and drainers to use in gastronomy (HORECA) and medicine.
Sink Seam Welding Machines made for Europe and the World
Robot Welding Automation: high quality and affordable
Flexybel and adaptable but at first Quality : Belgium Designed
Understanding your welding process and developing tailored solution accordingly, is at the core of our business. When combining your process knowledge with our quality LOW-COST standard welding automation concepts, highly efficient and money saving production lines are the result. With references all around the world, feel free to challenge us with your low - cost quality welding job!
PROFIBOT® - CNC Welding Robots - Robotic Welding Cells
Resistance Welding Robots and robot welding cells made for Europe and the World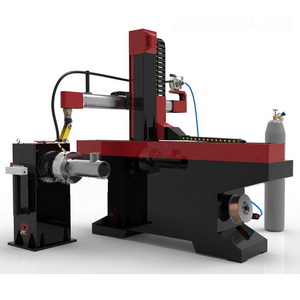 Cartesian CNC Welding Robots
Cartesian robots, which are also called linear robots or gantry robots, are industrial robots that work on three linear axes that use the Cartesian Coordinate system (X, Y, and Z), meaning they move in straight lines on 3-axis (up and down, in and out, and side to side).
Robot Welding Automation - Welding Robots - Robotised welding Cells
High quality affordable flexible robot welding cells.
MORE THAN WELDING
Special challenges demand individual solutions.
For decades now, we have been supplying high quality spot, projection and roller seam welding machines and today we are still doing the same, growing still in technological experience. Where sophisticated standards are no longer enough, we pick up the years of experience and put them to use in designing your special needs for the future. Working together, we come up with the economical and the most optimum technical solution for your products and fabrication operational conditions. Your ideas, your production, your materials and products are actually the most valuable assets so we have to put these assets to their best performance in today´s international market place. This is exactly where rationally working innovative solutions and second-to-none service are demanded.
Improve your product quality and eliminate errors by making use of precise well-tested Profimach lowcost welding machines tuned exactly to your material needs. Rationalize processes through planning, close lines of communication, automation and optimized speeds inside your workflow – Profimach welding division designs & develops the necessary highly-complex fabrication cells and special plant. Increase your productivity through rapid, fault-free operation, correctly trained personnel and the avoidance of downtimes. We stand on your side with the best possible experience, supported by our quality machines and a comprehensive list of services as partner in resistance welding technology.
MORE THAN WELDING
In addition to the classic run-of-the-mill resistance welding processes spot welding, projection welding and roller seam welding, we also offer special welding solutions in the field of robot welding as well as upstream / downstream component fabrication processes.
Profimach Pressure welding machines - Spot Welding Machines - Welding Robots - Robot welding automation
Affordable quality machines - With 2 years warranty